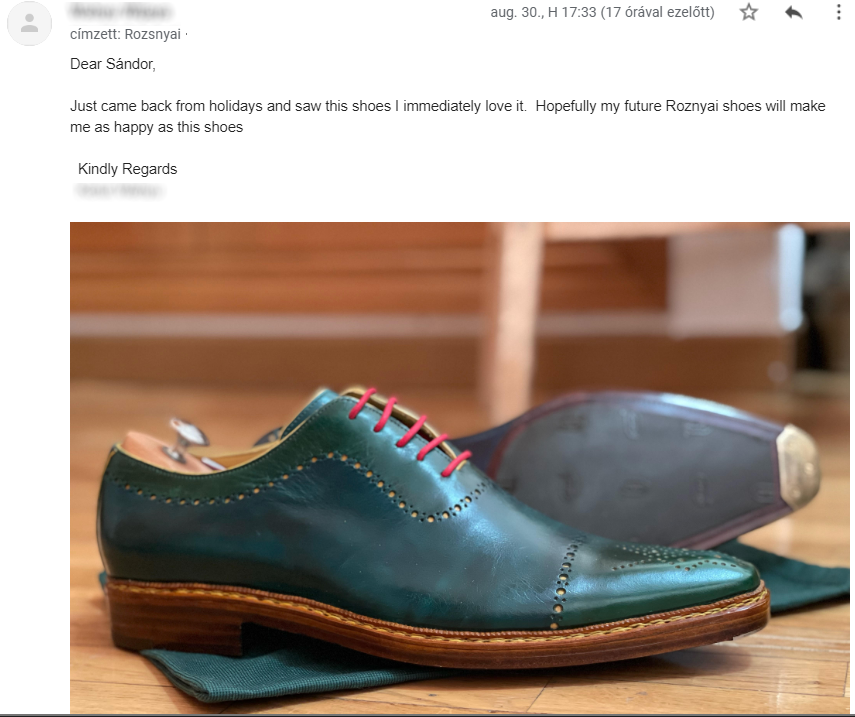 "And the shoes are exceptional, young and traditional with a personal note - refreshing and an enrichment for hand made shoes." by KS @ 24.12.2017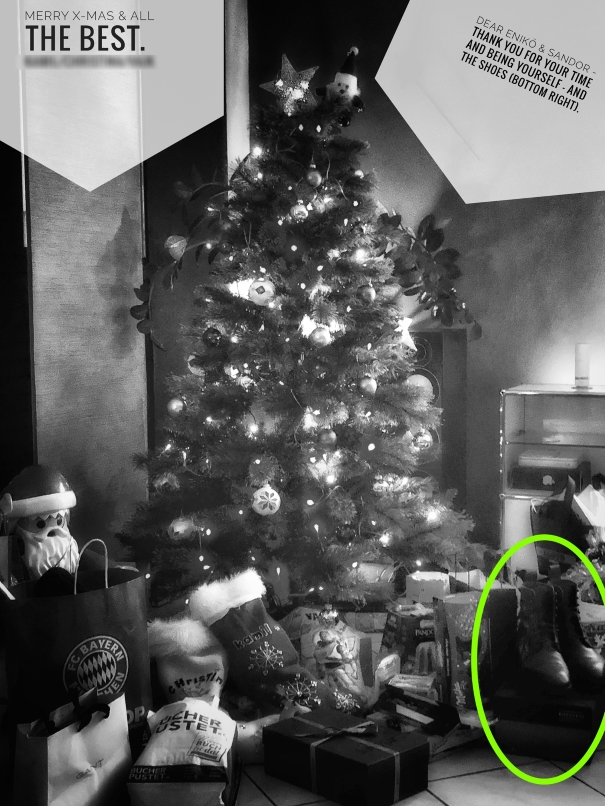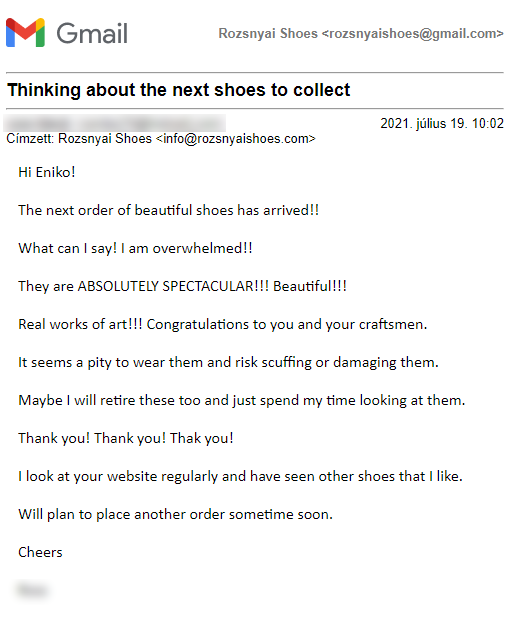 "Thx for the shoes. Everything is well and looks like very good. So nice and stylish. Thx for the nice and good parcel with gifts." by FH @ 05.10.2017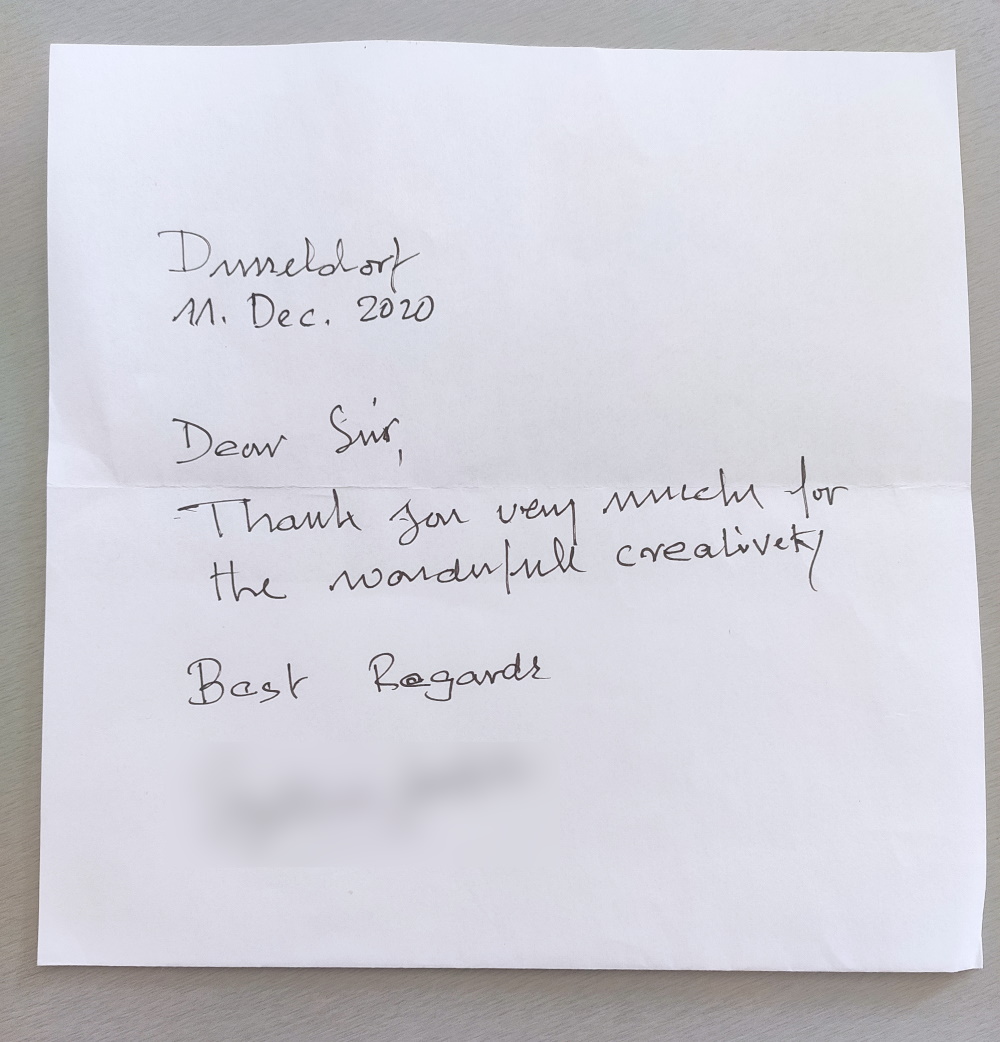 "I received the shoes about a week ago and have been wearing them every day. They are superb!" by LK @ 20.10.2015
"The shoes arrived today. They fit much better and are absolutely beautiful- well worth the wait. Thank you so much for all your help." by AL @ 14.12.2017
"Yes I have received the shoes. Everything is fine. I attach one picture as proof of my satisfaction :)" by BR @ 24.02.2018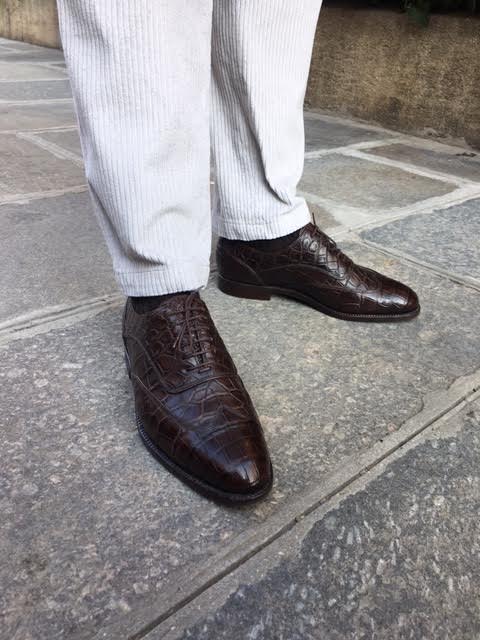 "Dear Eniko:
The shoes arrived and I love them. Perfect fit and they look great. My wife says they are the best looking shoes she has seen.
Also, I want you to understand that they are color coordinated with my cat. Beautiful!

Thank you to everyone at Rozsnyai Shoes for the wonderful work of art.
Best regards," by SJ @ 08.05.2021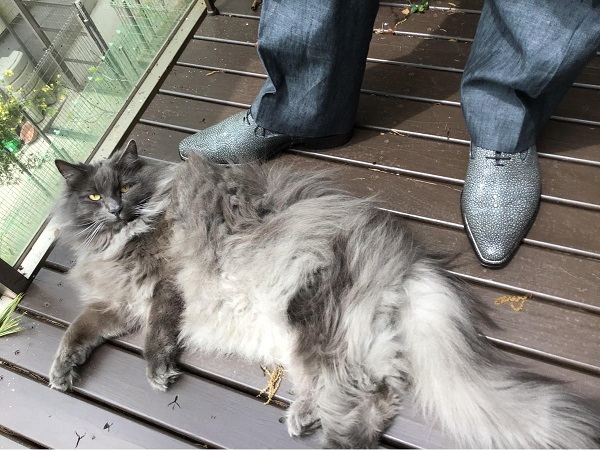 "Thanks for the message ,the shoes look amazing. A big thankyou to everybody involved in the process!" by JF @ 08.11.2016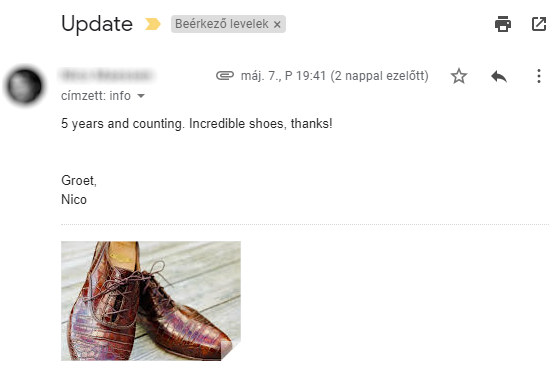 by NM @ 07.05.2021
"The replacement shoes are well received (please see the pics enclosed). Love the smell and could not be anymore happier with them =) Once again, thank you very much for you and Sandor's professional handling of the matter and I'm looking forward to my next purchase." by SL @ 14.04.2018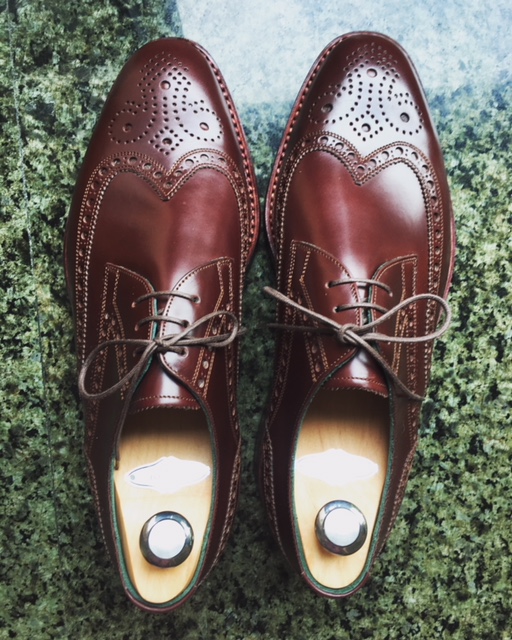 "Dear Enikö & Sándor,
Thank you very much for the beautiful craftsmanship, made at your workshop.
My passion for shoes you have fulfilled.
Best Wishes." by IJ @ 12.02.2021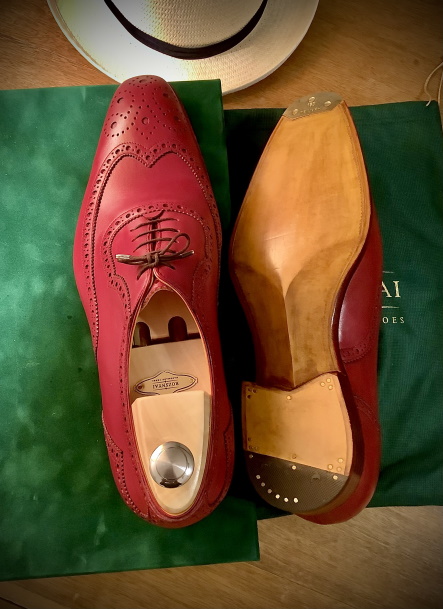 "My shoes have arrived and I'm very impressed and I can't wait to give them a mirror shine. I've had **** before and while they are good shoes, I honestly think you guys are better :) Will certainly order more from you in the future and recommend Rozsnyai to my friends." by SL @ 08.06.2017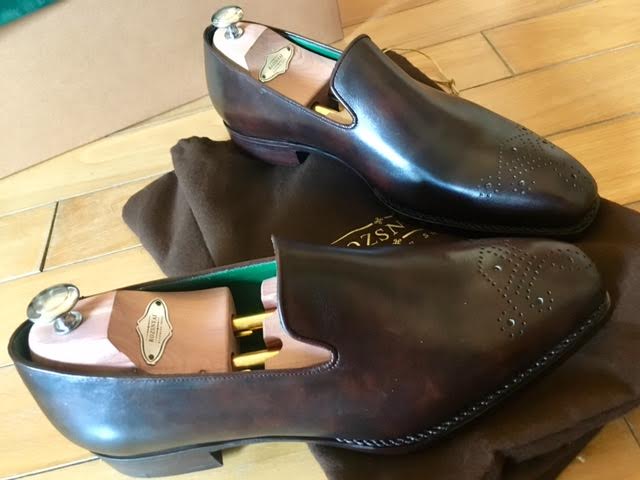 "I have already received my shoes. I am sorry for being late for sending email.
They are so cool. I am really satisfied with them.Thank you so much." by YH @ 20.03.2020
"I recieved the shoes. Thanks a lot, now the fit seems great out of the box. How would I proceed with the future orders..." by MK @ 04.10.2017
"Dear Eniko
Many thanks for the wonderful shoes 👞
you even gave me perfect shoetrees with the shoes , thank you so much for that, that makes the shoes even more interesting price wise !!!😃
Kind regards, also to your charming husband " by VDV @ 27.03.2019
"My shoes arrived !! WOW - fantastic beautiful finish!!" by JHS @ 13.10.2017
"Dear Sandor and Enikő,
Visiting you was on my "bucket list" of things to do during my visit to Hungary. The first pair of shoes that you made for me are stunning. I stand a little taller and exhibit more confidence when I wear them.
Thank you for being so welcoming!" by KG @ 01.04.2019
"I received the shoes. They are bigger in form (last) than I was expecting, but the Budapest is a bulky last. Plus, the double sole makes them look wider and bigger. For me, it looks like a Hungarian shoe so I am very happy. The Cordovan looks great. More important than anything, they feel comfortable already. I will break them in more but for the one hour around the apartment they felt great!! Thank you very very much." by BC @ 02.05.2017
"Dear Rozsnyai Shoes.
The shoes arrived to me today.
Thank you for the nice shoes.
I was surprised.Because this shoes are of the highest quality among the shoes I have.
I think the chain-stitching that is wonderful in particular.
I also want to make shoes at your shop." by DK @ 13.03.2019
"I have received my new pair of shoes. They really look great! I have already worn them for nearly a whole working day and the fit is already quite good so in two weeks the two of us will be used to each other. So thanx for the great work!" - by MH @ 09.02.2018
"The boots arrived today. They look great, even better than on the pictures, fit very well and are really comfortable. Please, tell the master who made them that I really appreciate his craftsmanship." by SS @ 18.02.2019
"I love the shoes. The fit is great, and they look wonderful." by TO'C @ 28.02.2018
"Dear Eniko,
I just wanted to say that I wore the shoes at the Cannes TV festival last week. They were super comfortable.
Please keep my size details as I will probably get a pair of brown shoes as well next year!
Thank you for great shoes!
Best wishes," by SJ @ 22.10.2018
"I received my shoes last week or so. They are perfect - everything I hoped they would be. George confirms the quality is excellent. Could I please order my second pair?" - by AB @ 17.05.2016
"The shoes were well received yesterday. The shoe quality is tremendous! I have nothing to say besides these are one of my favourite shoes. Thabk you very much for your help throughout the purchase and looking forward to the next purchase.
Once again thank you very much and wish all the best for you and for all staffs of Rozsnyai Shoes." by BL @ 19.09.2018
"I received my shoes. They are magnificent! I look forward to wearing them and I will follow the instructions that are included.
Thank you!!" - by SS @ 20.06.2017
"Dear Eniko,
I wanted to let you know that I've had a good chance to wear the new boots around and the fit is really excellent. Perhaps some of the best fitting shoes that I own.
Thank you so much for your attention to making the changes I needed. And the design turned out perfectly. I'm very impressed with the craftsmen's ability to create just what I asked for.
Thank you! And I'll look forward to placing an order again soon." by WL @ 15.06.2018
"I have received the shoes and they fit perfectly. Your craftsman has done a great job." by JQ @ 05.06.2016
"Biiiiiiig thanks I really appreciate everything you have done for me with your wife, as I told her many people need to learn from your company how to do business. It is really nice to see that you really care about your brand name and also your customers." by RH @ 01.06.2018
"In 2012 with my friends I was in the city, and there was some nice shopping in your shop (photo in attachment) ;)" - by JFSZ @ 21.05.2016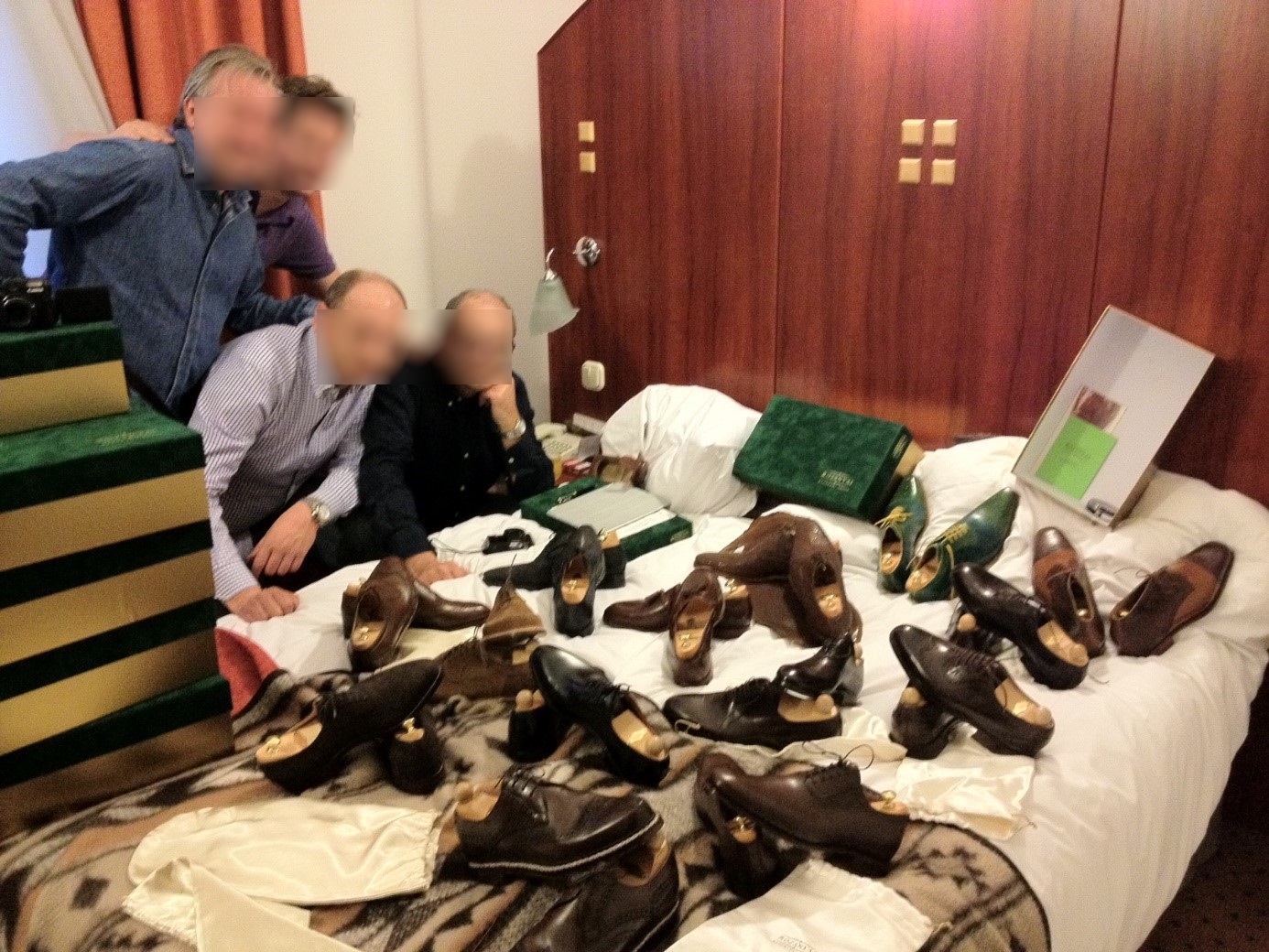 "I'm very satisfied with the shoes. Thank you." by JC @ 07.06.2018
"I just received my shoes today and they are fantastic. I'm very pleased, thank you for your assistance and hard work. I love them. Please let me know how I may order another pair. Thanks again!" by JM @ 25.01.2018
"This last is very comfortable. I have a high arch and medium width feet but I prefer shoes that are not very snug. This last is perfect it's like a bespoke last. And it is very appropriate for this kind of model - a sturdy derby goyser. The leather is also very nice. It reminds me of Russian leather. They are nice shoes. And your price is very competitive. For 400 euro one can get a C&J Handgrade which is a inferior construction and leather. Congratulation for the craftsmanship :). Good work!" by MC @ 09.06.2016