Even the most durable shoes needs some repairing after a while. If the upper still usable, we can sew a new sole, and with some cleaning, reshaping, and polishing your shoes will look like new, even the ones in very bad shape.

We use the best quality leathers for durability and with the traditional technology we are able to sew new soles to your shoes. This way with some care your shoes will keep you company for a very long time.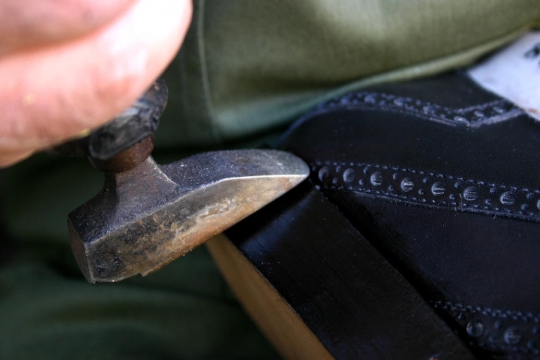 The most common repair works is the changing of the rubber inlays in the soles & heel. However we use the best quality Vibram and SVIG rubbers, these are wearing parts, they have to be changed from time to time depending on the regularity of wearing and walking style. Please bring your shoes to us in time, it's much faster, easier and cheaper to replace a rubber inlay, than a whole sole, don't wait for the holes to appear!
If possible please visit our showroom or workshop to discuss the problems, or please send them to our workshop to the following address:

La-Belly 2001 Kft.
Debrecen,
Egymalom u. 3
4026 Hungary
+36 30 95 84 277
Please note that we repair only our own products.