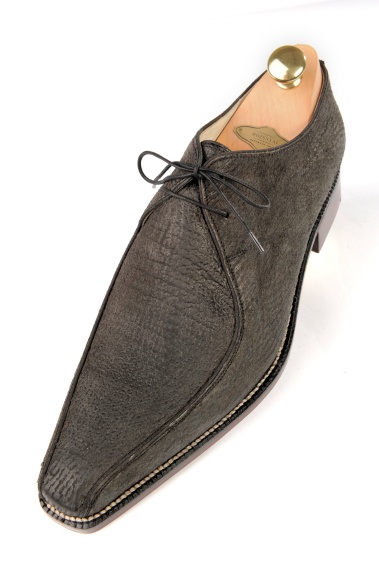 2 eyelet brown nubuck shark derby | 116-02

Your Price:
260000,00 HUF
Non-EU price:
204724,41 HUF
These suede-shark shoes are typical casual shoes, for everyday use with eg. jeans. Because of the 2 laced upper, they are very simple and thanks to the unusual appearance of the suede-shark, they are very unique. Good choice for the lovers of pointed casual shoes.

All of our special skins are originated from legal source with CITES certifications, all animals are breeded for such purpose or skins are from old animals.
Last & Fitting info |
What's included in the price?
For MORE CUSTOMIZATION OPTIONS* please use our Shoe customizer.
*eg.: different color, skin, MTM option, last, lining color, decoration, stitching type & length & color, sole thickness, sole design & colors, sole protection options, waist options etc.